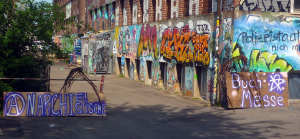 The book fair is about to begin! At 5pm we will welcome our guests and then start with Tar Sands, as the opening Lecture. But before that happens, here a last update.
We have even more events for sunday. Thus, the book fair will go untill 5pm on sunday, with the concert by Dishlicker at 4pm. The new events are an Update on the Situation in Rojava as well as one on the protests in France and a book lecture by Liberatout.
The first Aid Workshop will be at 10am on sunday.
The Skilltraining for Demonstrations will beginn on Saturday at 10am, we recommend attending from the start!
There is an Infopoint during the whole book fair for up to date information.