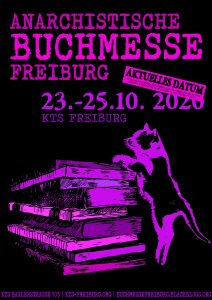 It's starting? Yes! Despite other rumors we can let the book fair take place – but with only 100 guests* at the same time and this year without concerts. A pity, but better than nothing. Helping hands are still wanted, by the way, so please contact us or ask us on site if you feel like helping out. For the shifts there are training meetings, for infopoint and Awarness these are obligatory.
Unfortunately our website has been down lately, we hope that this will be solved and you can inform yourself here again. You can also find all events on kts-freiburg.org or tacker.fr and there is also a program booklet on site.
About Corona, we already informed you about some things, here are the important current rules for the book fair:
Please leave your contact details at the Infopoint. These lists will be kept for a period of 4 weeks and then destroyed. There will be
ensures that no unauthorized third parties have access to this data
So-called contagion suspects must stay away from the event.
Please observe the recommended minimum distance of 1.5 meters to other persons and the entrance and exit path system.
Remember to wear a mask in the building, also during the workshops and programs. Also in the outside area, also during the workshops and mealtimes
Please use the marked possibilities to wash and disinfect your hands
If you are infected with Corona within the next 14 days, please contact us at: infoladen [@tbb] kts-freiburg.org
We will also have to ventilate a lot – accordingly, it will be as warm inside the building as it is outside. Dress warmly and bring a blanket with you!
We are looking forward to seeing you. Until Friday!